GROWMARK Foundation Awards FFA Jackets
The GROWMARK Foundation continues its commitment to FFA by giving away 25 more jackets this fall. The effort honors the legacy of Mike Builta, a GROWMARK vice president and long-time employee who passed away unexpectedly in 2019.
Mike's wife Sheila, along with daughters Haley and Kelsey, wished to honor his memory by providing 100 FFA jackets to Illinois FFA members – 25 each year from 2019-2022.
"FFA was a huge influence in Mike's life and career," added Sheila Builta. "He would be pleased to help future students have the opportunity to wear the blue jacket just as he did."
This year, Illinois FFA members were asked to answer the question "What does the FFA jacket mean to you?". They were also asked to share the main goal they wished to accomplish as an FFA member.
The 2020 recipients are:
Megan Baker ​ ​ ​ ​ ​ ​ ​ ​ ​ ​ ​ ​ ​ ​ ​ ​ ​ ​ ​ ​ ​ ​ ​ ​ ​ ​ ​ ​ ​ ​ ​ ​ ​ ​ ​ ​ ​ Neoga FFA ​ ​ ​ ​ ​ ​ ​ ​ ​ ​ ​ ​ ​ ​ ​ ​ ​ ​ ​ ​ ​ ​ ​ ​ ​ ​ ​ ​ ​ ​ ​ ​ ​ ​ ​ ​ ​ ​ ​ ​ ​ ​ ​ Trilla, Illinois
Taylor Burke ​ ​ ​ ​ ​ ​ ​ ​ ​ ​ ​ ​ ​ ​ ​ ​ ​ ​ ​ ​ ​ ​ ​ ​ ​ ​ ​ ​ ​ ​ ​ ​ ​ ​ ​ ​ ​ ​ Galva FFA ​ ​ ​ ​ ​ ​ ​ ​ ​ ​ ​ ​ ​ ​ ​ ​ ​ ​ ​ ​ ​ ​ ​ ​ ​ ​ ​ ​ ​ ​ ​ ​ ​ ​ ​ ​ ​ ​ ​ ​ ​ ​ ​ ​ ​ Altona, Illinois
Cheyenne Cantu ​ ​ ​ ​ ​ ​ ​ ​ ​ ​ ​ ​ ​ ​ ​ ​ ​ ​ ​ ​ ​ ​ ​ ​ ​ ​ ​ ​ ​ ​ ​ Sterling FFA ​ ​ ​ ​ ​ ​ ​ ​ ​ ​ ​ ​ ​ ​ ​ ​ ​ ​ ​ ​ ​ ​ ​ ​ ​ ​ ​ ​ ​ ​ ​ ​ ​ ​ ​ ​ ​ ​ ​ ​ ​ Galt, Illinois
Thomas (TJ) Conner ​ ​ ​ ​ ​ ​ ​ ​ ​ ​ ​ ​ ​ ​ ​ ​ ​ ​ ​ ​ ​ ​ ​ ​ ​ ​ Galva FFA ​ ​ ​ ​ ​ ​ ​ ​ ​ ​ ​ ​ Galva, Illinois
Taylor Fry Genoa-Kingston FFA Genoa, Illinois
Banan Garada Urbana FFA Urbana, Illinois
Danielle Giacinto Streator FFA Streator, Illinois
Chloe Grant Taylorville FFA ​ Owaneco, Illinois
Mia Hernandez Bureau Valley FFA ​ ​ Sheffield, Illinois
Cash Hubbard Sterling FFA Sterling, Illinois
Maera Jimenez Marquette Academy FFA ​ Ottawa, Illinois
Sydney Long Streator FFA Streator, Illinois
Vincent McKinney ​ Wayne City FFA ​ Bluford, Illinois
Jett Mehalic Streator FFA Streator, Illinois
Claire Meyer Tuscola FFA Arcola, Illinois
Madison Morton Pecatonica FFA Pecatonica, Illinois
Abby Norris Taylorville FFA ​ Palmer, Illinois
Macy Sager Pecatonica FFA Pecatonica, Illinois
Tessa Saxe Morrisonville FFA Morrisonville, Illinois
Alexis Spivey ​ Galva FFA Galva, Illinois
Ella Thacker ​ Bureau Valley FFA Walnut, Illinois
Alexis Walkling ​ Streator FFA Kangley, Illinois
Elizabeth Weidner ​ ​ ​ ​ ​ ​ ​ ​ ​ ​ ​ ​ ​ ​ ​ Teutopolis FFA Dieterich, Illinois
Ethan Weidner ​ ​ ​ ​ ​ ​ ​ ​ ​ ​ ​ ​ ​ ​ ​ ​ Teutopolis FFA Dieterich, Illinois
Carter Westphal ​ ​ ​ ​ ​ ​ ​ ​ ​ ​ ​ ​ ​ ​ ​ ​ Newark FFA Newark, Illinois
Builta was raised on a family farm near Bellflower, Illinois. He was an active FFA member and lifelong supporter of agricultural education. He held GROWMARK System management roles at Christian County Farmers Supply Company in Taylorville, Illinois and GRAINCO FS in Ottawa, Illinois, before becoming GROWMARK's vice president of Energy and Logistics in 2018.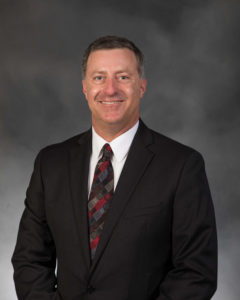 About the GROWMARK Foundation:
The GROWMARK Foundation was formally incorporated in 2005 and supports 501(c)(3) not-for-profit charitable organizations. The Foundation is focused on programs and activities which support: the vitality of the industry of agriculture; agriculture education and consumer understanding of agriculture's contributions to society and the economy; agricultural leadership development; and education about the benefits of the cooperative way of doing business. The GROWMARK System has been involved in a variety of philanthropic efforts, including youth and young leader education and development and scholarships, for decades.
Karen Jones Youth and Young Producer Specialist, GROWMARK